Purple Promise Foundation to End Melanoma
IT IS ABOUT YOU AND HOW WE CAN FIGHT MELANOMA TOGETHER!
Foundation News & Recent Events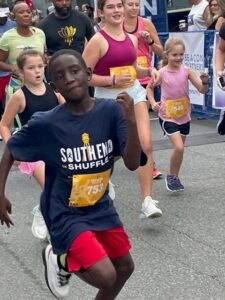 This past Saturday we had the honor of participating in the 10th Annual South End Shuffle 5k & Mile Run. This is by far one …

We promised her we were going to do this, Levine Cancer Institute is doing great things in melanoma treatment and research. It was an emotional thing for us because we know Jessica is watching.
David Hodgkins
President, The Purple Promise Foundation
Skin cancer is the most common of all cancers - more than a million Americans develop it every year. Melanoma accounts for about 1% of diagnosed skin cancers.
Richard L. White, Jr MD FACS
Chief, Division of Surgical Oncology at Atrium Health Levine Cancer Institute
Thank you Purple Promise for your unwavering efforts in the fight against melanoma and skin cancer!
Dermatology, Laser & Vein Specialists of the Carolinas, PLLC
Ready to find out more? Stay connected TODAY!
We promise we won't spam your inbox, but we will periodically send you updates about the things that The Purple Promise Foundation to End Melanoma is involved with and we would love for you to be part of our mission to help find a cure!
The Purple Promise Foundation | P.O. Box 790033 | Charlotte, NC 28206
The Purple Promise Foundation is registered in North Carolina as a nonprofit organization. The Purple Promise is a public charity exempt from federal income tax under Section 501(c)(3) of the Internal Revenue Code and the organization's Federal Identification Number (EIN) is 45-0594179.
Copyright © 2023 | The Purple Promise Foundation